Home / About PBS39 / Access and Enjoy NEIRRS on PBS39 channel 39.4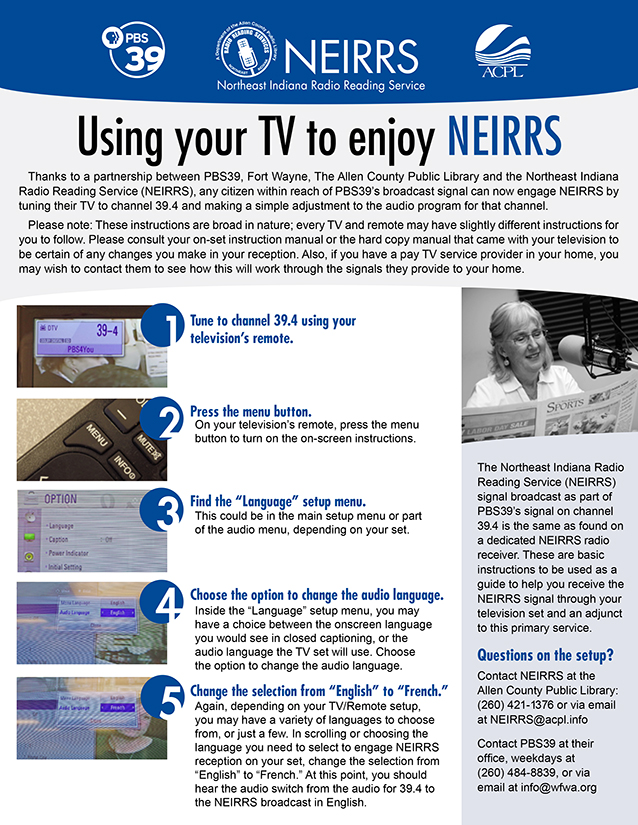 PBS39, in partnership with the Northeast Indiana Radio Reading Service, now offers area TV viewers the opportunity to access and enjoy NEIRRS Service without the special radio receiver normally used to gain access to this valuable service for the vision or reading impaired.
Northeast Indiana Radio Reading Service (NEIRRS) is a free radio reading service for people who are blind or have a visual or a reading impairment. For thousands of people in northeast Indiana and northwest Ohio, NEIRRS is a source of in-depth news, current events and their community information connection for over 25 years. In this service, NEIRRS volunteers read local news and features from a dozens of area newspapers, plus magazines, books, grocery ads, obituaries and more.
This new expansion of NEIRRS allows viewers in a greater geographic area to be able to access NEIRRS broadcasts now by using their television set in addition to special NEIRRS receivers, tuning to channel 39.4 and changing the audio settings for this channel on their television set to allow for the reception of the NEIRRS broadcast as it is simulcast over channel 39.4. The NEIRRS broadcast does not replace channel 39.4's normal audio stream, but rather, rides along the transmission of channel 39.4 and remains independent of the TV content broadcast on channel 39.4. Those viewers who watch channel 39.4 normally without any voluntary changing of their TV's audio setup menu should not notice any change at all in the delivery of normal reception.
To download a PDF instruction sheet showing you how to engage the NEIRRS service through your TV, click here.
To contact NEIRRS for more information or assistance, call them at (260) 421-1376 or contact them via Email: NEIRRS@acpl.info
To contact PBS39 for more information or assistance, call (260) 484-8839 or contact us via email at info@wfwa.org.
Thanks to Frontier Communications for underwriting and sponsoring the technical upgrades necessary for this collaboration.